Vegan Food Wrap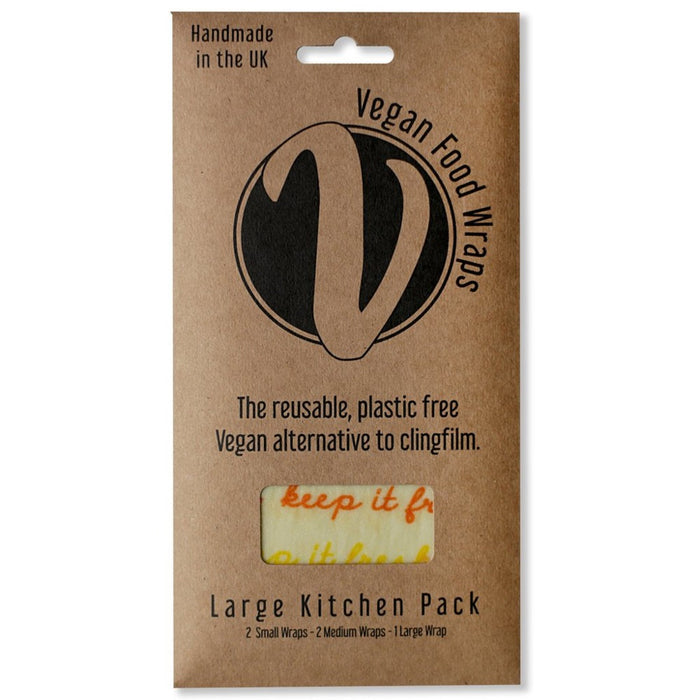 Keeping food fresh, use the UK made Vegan Wraps. This Medium Kitchen pack includes 3 reusable wraps.
Created with organic cotton, Vegan wraps are a natural way to keep food fresh.
Whether you use your Vegan Wraps to wrap directly round food, on top of bowls or glasses, these wraps can keep food fresher for much longer.
With a lifespan of over a year, when the time comes to dispose your Vegan Wraps, these wraps are disposable and can be decomposed.
When cleaning your Vegan Wraps, we recommend washing with cool water and mild washing up liquid before being allowed to hang dry.

Sizes featured in this pack of 3 include: 1 x Small Vegan Wrap (20cm x 20cm), 1 x Medium Vegan Wrap (30cm x 30cm), 1 x Large Vegan Wrap (40cm x 40cm)
Sizes featured in this pack of 5 include: 2 x Small Vegan Wraps (20cm x 20cm), 2 x Medium Vegan Wraps (30cm x 30cm), 1 x Large Vegan Wrap (40cm x 40cm)
Ingredients: Sunflower, Sumac, Rice Bran Waxes, Hydrogenated Castor Oil, Organic Jojoba Oil and Pine Resin